Advanced Angular Workshop: Enterprise Anwendungen und Architekturen, München, 3 Tage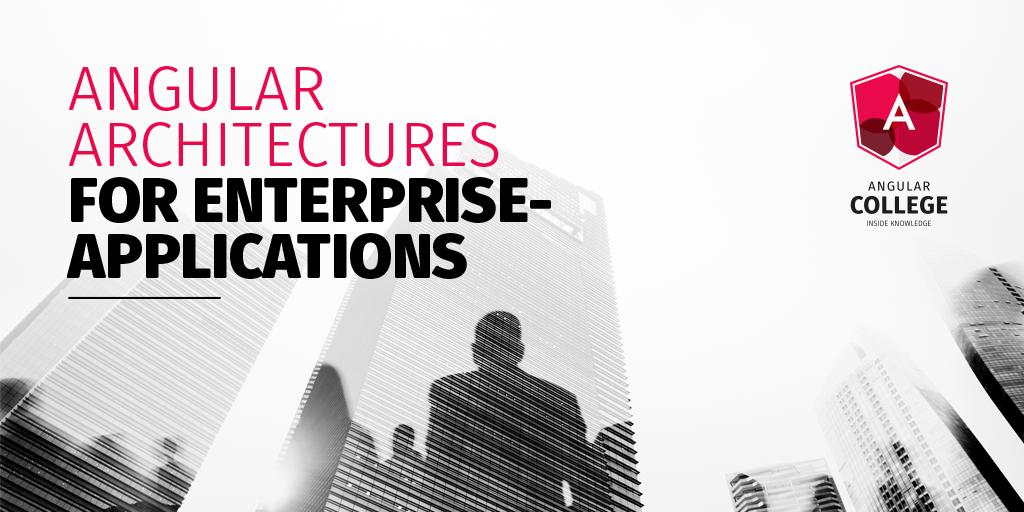 Image from eventbrite.com
From Mon 8 June 2020 to Wed 10 June 2020
From Monday 8 June 2020 to Wednesday 10 June 2020
---
Beschreibung
In diesem interaktiven Seminar erfahren Sie von Manfred Steyer, O'Reilly-Autor und Google Developer Expert, sowie Michael Zikes, Angular-Experte mit Fokus auf große Unternehmensanwendungen, wie sich mit Angular große und robuste Unternehmensanwendungen entwickeln lassen. Basierend auf einem vollständigen Projekt und vielen Beispielen werden zahlreiche Architekturansätze und Best Practices diskuiert. Am Ende liegt eine Vorlage für Ihre eigenen Projekte vor.
Highlights
Angular 9: Was ist neu?
Moderne Architekturen mit Angular Ivy
Microfrontends mit Angular
Domain Driven Design mit Angular
Web Components mit Angular Elements
npm Packages for Angular
Monorepos, the new CLI and Nrwl Nx
Progressive Web Apps
Performance
Statemanagement mit Redux/ @ngrx/store & Co.
Methodik für reaktive Programmierung (RxJS)
Das neue @ngrx/component
Didaktischer Ansatz
In insgesamt neun Modulen wechseln sich kurze Theorie-Phasen mit Live-Coding und Übungen ab.
Vorbedingungen
Sie sollten erste Projekterfahrung mit Angular haben.
Übungen
Für die Übungen bringen Sie bitte Ihren Laptop mit und installieren Sie die folgenden Software-Pakete:
Öffentliches Training vs. In-House Schulung
Nehmen Sie mit uns Kontakt auf, falls Sie mehr als 4 Teilnehmer anmelden wollen. Wir können dann gemeinsam entscheiden, ob eine für Sie angepasste In-House-Variante günstiger ist. Je nach Auslastung gewähren wir in solchen Fällen auch Kollegenrabatt für öffentliche Trainings. Sie erreichen uns unter office@angular-college.com.
Detaillierte Inhalte
Struktur für große Anwendungen: Monorepos und Microfrontends
Architekturen mit Domain Driven Design (DDD) planen
CLI Workspaces und Monorepos mit Nx (Nrwl Extensions)
Wiederverwendbare npm-Pakete entwickeln und verteilen
Anpassbare Bibliotheken mit erweiterten DI-Mustern und Content Projection
Microfrontends mit Angular
Das Open/Closed-Principle in Angular
Moderne Architekturen mit Ivy und Angular Elements

Web Components mit Ivy und Angular Elements
Komponenten zur Laufzeit erzeugen
Dynamisches Laden von Komponenten
Zone-less Change Detection
Higher Order Components
Eine Zukunft ohne NgModules
Micro Apps mit Web Components und Alternativen
Architekturvorgaben erzwingen
State Management Patterns

Der State-Layer und DDD
Den Redux-Ansatz mit NGRX nutzen
Building-Blocks mit Schematics generieren
Entitäten mit @ngrx/entities verwalten
Praktikabler Umgang mit Immutables
Fassaden als Dreh- und Angelpunkt
NGRX: Wann, wann nicht und Alternativen?
NGRX und Lazy Loading von Modulen
Performance Tuning

Lazy Loding mit und ohne Router
Data Binding Performance mit OnPush
Tree-Shakables Providers
Differential Serving
AOT und Tree Shaking
Serverside Rendering
Service Worker Caching
Web Worker und die CLI
Customization und Cross Cutting Concerns

(Kundenspezifische) Anpassungen zur Runtime und Compiletime
Optionien für Konfiguration
Routen mit Guards schützen
Globale Warnmeldungen
Anfragen und Antworten mit HttpInterceptoren global bearbeiten
Direktiven für Cross Cutting Concerns
Globales Error-Handling
Router Events
Moderne Security-Lösungen mit Login und Single Sign on

Existierende Identity-Lösungen wie Active Directory anbinden
Social Login (Login with Facebook etc.)
OAuth 2 und OpenId Connect
JSON Web Tokens (JWT)
Token Refresh
Single Sign out
Aktuelle Empfehlungen der OAuth 2 Working Group und Konsequenzen
Reaktive Architekturen mit RxJs

Reaktives Denken und reaktiver Entwurf
Chaining/ Piping von Operatoren
Higher-Order Observables
Implizites und Explizites Schließen
Cold und Hot Observables
Subjects nutzen
Fehlerbehandlung
Debugging
Mobile Architekturen und Offlinefähige Web-Anwendungen mit PWAs

Offlinefähige Web-Anwendungen
Service Worker
Web App Manifest
Browser-Datenbanken
Push-Notifications
Background-Sync
Internationalisierung

I18N Pipes
Übersetzungen mit dem Angular Compiler (Runtime I18N)
Übersetzungen mit ngx-translate
I18N und Eingaben
Weitere Details
Weitere Details auf den Seiten des Anbieters.
Ihre Trainer
Manfred Steyer: Bekannter internationaler Experte mit with Fokus auf Angular. Google Developer Expert (GDE). Schreibt für O'Reilly, das Java Magazine, windows.developer und Heise. Spricht regelmäßig auf Konferenzen. Inhaber von softwarearchitekt.at.
Michael Zikes: Angular-Experte und Trainer mit Fokus auf Unternehmensanwendungen. Berät große Organisationen im gesamten deutschen Sprachraum.
7970 Views - 11/06/2020 Last update
NH München Messe
Eggenfeldener Str. 100, München, 81929, München, DE
---
Are you an event organizer?
Create events for free. They will be immediately recommended to interested users.
Create event
Nearby hotels and apartments
Eggenfeldener Str. 100, München, 81929, München, DE
---
---
NH München Messe
Eggenfeldener Str. 100, München, 81929, München, DE
Event from
eventbrite.com
---
---
Are you an event organizer?
Create events for free. They will be immediately recommended to interested users.
Create event