BRAUKURS CRAFT BEER
COVID-19: many events have been canceled or postponed, please check with the organizer the event status.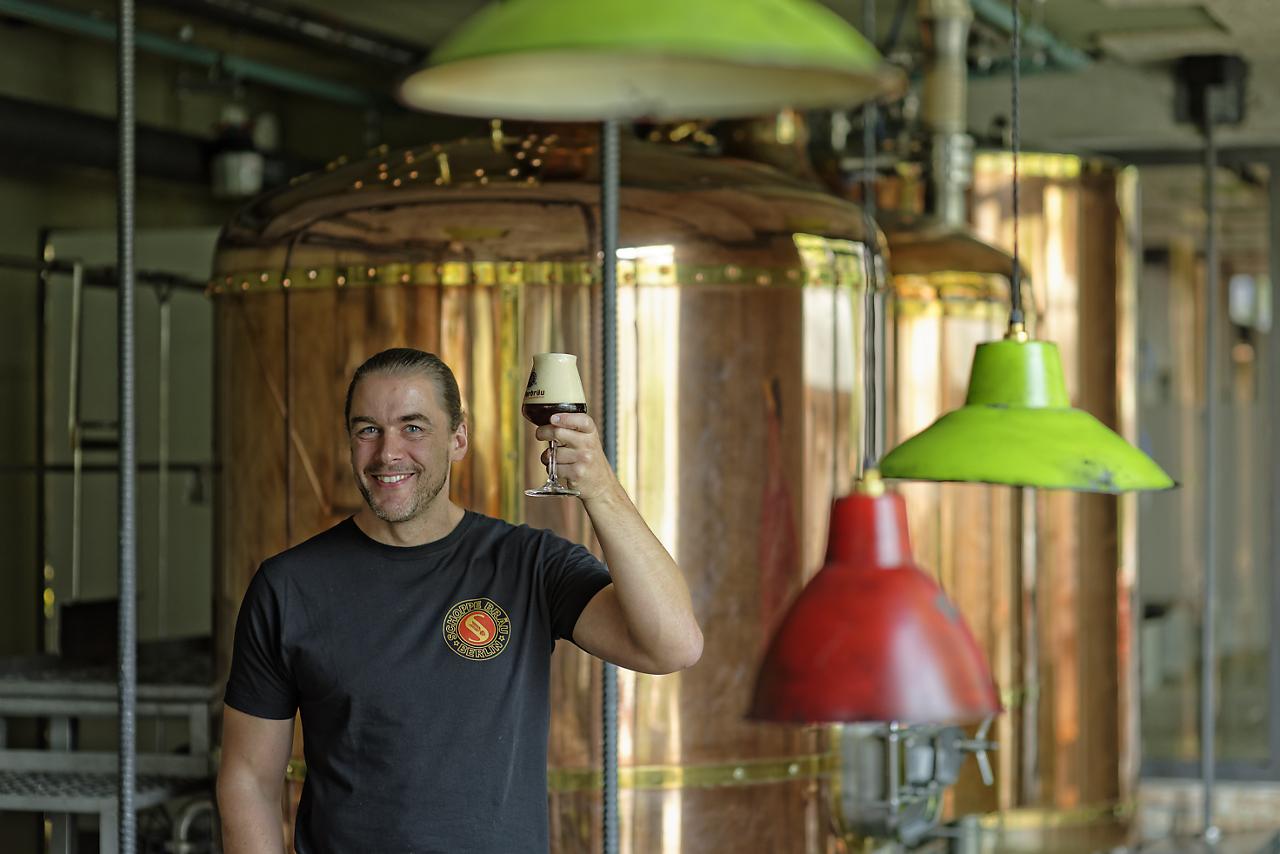 Image from eventbrite.com
---
Wir brauen in kleiner Gruppe und unserer Minibrauanlage ein Craftbeer.
Unter Anleitung von Thorsten Schoppe werden ca. 30 Liter feinstes Bier hergestellt und innerhalb des Kurses alles Notwendige und Wissenswerte rund um die Bierherstellung erklärt. Die Kursteilnehmer können mitbestimmen was wir Feines brauen und während des Brauprozesses eingreifen und kräftig mitmachen. Eine Auswahl aus hochwertigen Rohstoffen wird bereitstehen und wir entscheiden gemeinsam was rauskommt. Dazu gibt es ein deftige Mittagessen und die Chance unserer Biere zu verkosten.
Vor der malerischen Kulisse unserer 1000 Liter Kupferkessel stellen wir unsere Heimbrauanlage auf und schroten, maischen, läutern und kochen gemeinsam einen Sud, der dann bei uns vor Ort vergoren und ausgereift wird. Während des Tages wird auch die gesamte Brauerei besichtigt und wir können frisch aus den verschiedenen Tanks kleine Kostproben unserer Biere zwickeln.
Ablauf:
Der Tag beginnt bei einer gemeinsamen Tasse Kaffee und einer kleinen Einführung. Danach werden wir recht bald in die Maischebereitung einsteigen und nebenbei viel Zeit für Erklärungen haben. Die Teilnehmer bekommen Kursunterlagen und füllen einen Sudbericht aus, mit dem der gebraute Sud bei Bedarf wiederholt werden kann.
Gegen 12:30 werden wir ein Mittagessen einnehmen. Passend zum Thema bereitet der Küchenchef der Schankahlle ein leckeres Gericht, daß wir mit einem spezielles Craft Beer kombinieren um den Genuß zu verdoppeln. Die Gerichte wechseln nach Saison und Verfügbarkeit. Vegetarische Optionen sind vorhanden.
Wer vorher schon Hunger beim Bier bekommt für den steht während des Tages frisches Brot mit Butter und Quark bereit.
Danach geht es fröhlich weiter bis wir gegen 15 Uhr mit der Kochung und dem Abfüllen des Bieres ins Gärgefäß fertig sind.
Zum Abschluss erhält jeder Kursteilnehmer ein gemischtes 6 Pack unsere Bier zum Angeben zuhause.
Das fertige Bier kann einige Wochen danach in unserem Taproom in Kreuzberg von den Teilnehmern verkostet werden. www.Schoppebraeutaproom.de
Kursleiter:
Der Referent Thorsten Schoppe ist seit 1994 Bierbrauer und seit 2001 Brauereiingenieur mit eigenem Brauereiunternehmen. Thorsten hat schon Craftbeer gebraut als es in Deutschland das Wort noch gar nicht gab und ist weiterhin mit viel Freude bei seinem Job. Er macht auch seit etwa 20 Jahren Braukurse und weiß auf fast jede Bierfrage ein passende Antwort. Ein paar weitere Infos können sie unter www.Schoppebräu.de entdecken.
Sollten sie einen Geschenkgutschein ohne festes Datum wünschen, wenden sich sich bitte an unser Büro. Eventbrite bietet diese Möglichkeit nicht.
http://www.schoppebraeu.de/de/page_footer

We'll be brewing a small batch (30 litres) of craft beer on our microbrewing system.
You'll be learning the essentials of brewing and all the fun facts you never knew existed. Which beer we'll be brewing is entirely up to you, with brewmaster Thorsten Schoppe assisting in the creation of the recipe. Expect a hands-on experience, as we want you to be part of the brewing process, no idle spectator!
A selection of quality ingredients will be provided, and we'll decide how to use them together. In addition, the adjoining restaurant will serve a hearty lunch and you'll have the chance of sampling all our beers.
The workshop will be held in german but the brewmaster speaks fluent english and can answer questions from time to time.
1606 Views - 05/04/2020 Last update
schönhauser allee 176
schankhalle braugasthaus, berlin, 10119, de
---
Are you an event organizer?
Create events for free. They will be immediately recommended to interested users.
Create event
Nearby hotels and apartments
schankhalle braugasthaus, berlin, 10119, de
---
---
schönhauser allee 176
schankhalle braugasthaus, berlin, 10119, de
Event from
eventbrite.com
---
---
Are you an event organizer?
Create events for free. They will be immediately recommended to interested users.
Create event
Berlin

›