INTUITION LAB: Toolbox for future-fit leaders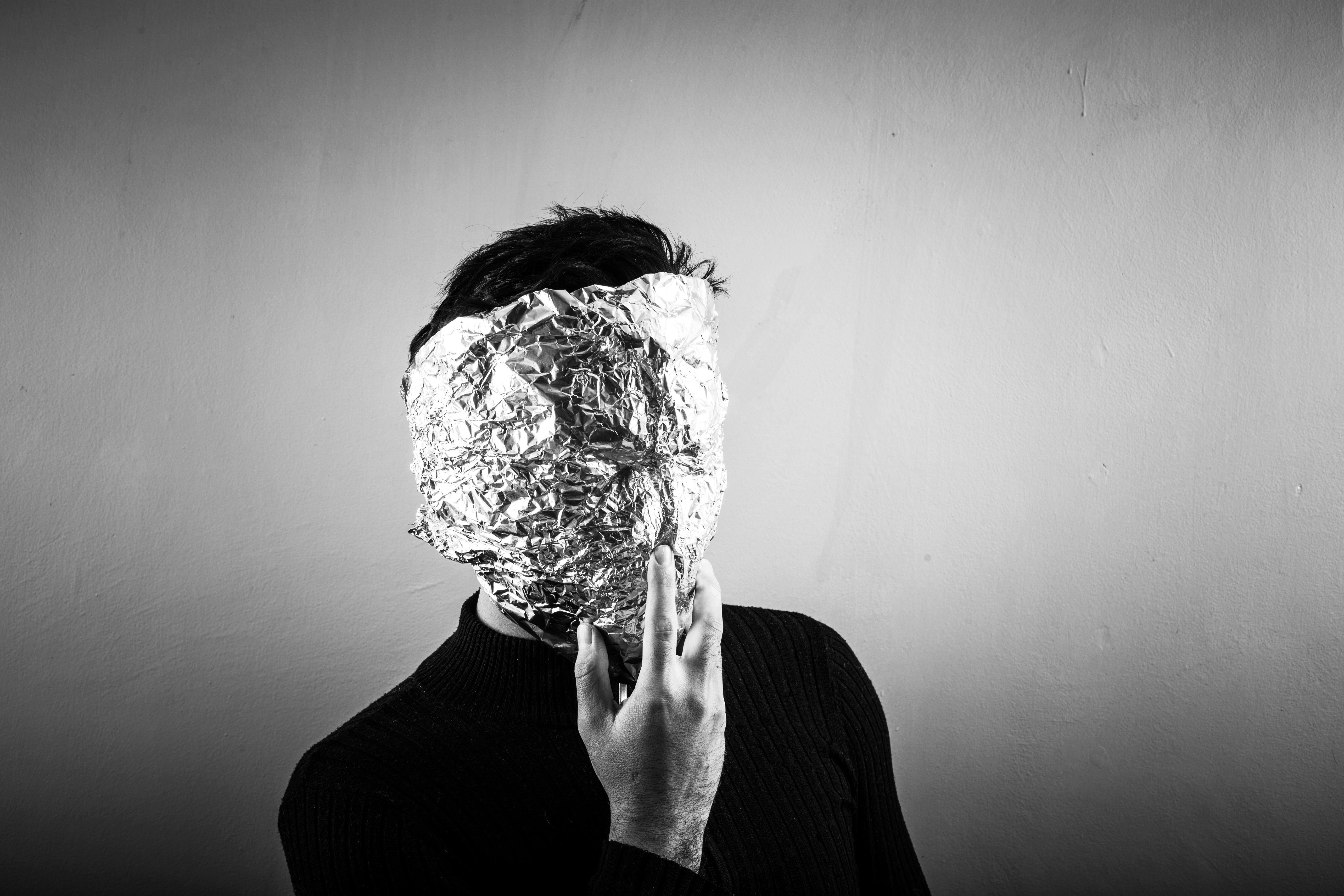 Image from eventbrite.com
From Fri 22 November 2019 to Sat 23 November 2019
From Friday 22 November 2019 to Saturday 23 November 2019
---
Explore what it means to be fiercely human in the age of technology

Even though the non-conscious intuitive mind is an important influence on our day-to-day living we're for the most part blithely unaware of just how much power it has. - Prof Eugene Sadler-Smith
Strong leadership is a combination of having a great idea, doing the research and ultimately following your gut. Research shows that the ability to perceive and listen to one's "gut feeling" is associated with superior decision-making & more advantageous choices, especially in complex & uncertain situations. But what is this gut feeling?
What is intuition? How does it work? Can it be trained? Does it differ from analysis?
When and why does it make sense to decide intuitively in a business context?
What is the connection between intuition, insight & creativity?
How can I connect to a sense of self, to sense this gut feeling and act more intuitively?
How can I communicate my intuition(s) to others and learn from their intuition(s) -- especially across generations, cultures and backgrounds?
What does mindfulness have to do with reliable intuition ?
These questions will be at the core of our 1.5 day laboratory, exploring the intelligence of the intuitive mind. To train for intuition is to empower the use of our full cognitive capacities. Creating conditions for the emergence of stored knowledge -- knowledge which has been puzzled together in new and creative ways by our cognitive unconscious.
#adaptive cognition #strategic intuition #growth mindset #emotional intelligence #interoception #mindfulness
Switch off the autopilot and get in the driver's seat of your mind -- creating a space of learning and growth - for yourself, your team and your organisation.
CLARITY | COLLABORATION | CONNECTION | COMMUNICATION
Learning Goals:
sense of clarity & direction
access to creativity & ideas
ability to connect to your own sense of purpose
connection to shared (organisational, societal) values
The training is designed to strengthen the integration of mind and body, enabling emotion regulation and equipping participants with the tools needed to thrive despite uncertainty. Catalyzing shifts in mindset, skillset and strategy.
Benefits include:
Increased access to intuitive and emotional intelligence & self-awareness
Higher cognitive flexibility and ease of processing (fluency)
Sense of clarity, connection and trust
"In times of disruptive change, successful leadership depends on the quality of attention and intention. It is essential to understand the inner space one is operating from." – Otto Scharmer
PRINCIPLES & PRACTICES
Neuroscience of Intuition
Current research on decision making under uncertainty
Participatory methods to foster collaboration, connection and communication.
Practical exercises to train awareness, embrace complexity and deal with uncertainty
"Intuition is the skill of focusing on those important but sometimes faint signals that fuel imagination, creativity and innovation." - Prof Eugene Sadler-Smith
Our intention is to enable and empower you. We want you to be able to recognise, the moments in which you can use the tools you take away from our training. With an enablement approach, the laboratory space invites you to shift from knowledge consumer to self-directed practitioner.
Some practicalities
Dates: Nov. 22nd, 9-17h & Nov. 23rd 10 -14h (with 1h lunch break each day)
The training will be held in an intimate setting of max. 18 participants, to allow for meaningful exchange and learning.
Beautiful organic vegan-vegetarian lunch will be provided each day and is included in the ticket price.
The training will be held in English, with the option of translation into German, if needed.
The space is unfortunately not wheelchair accessible. However, we are happy work out a solution together with you, if possible. Please contact us directly, at contact@dr-mega.com
Your Facilitators: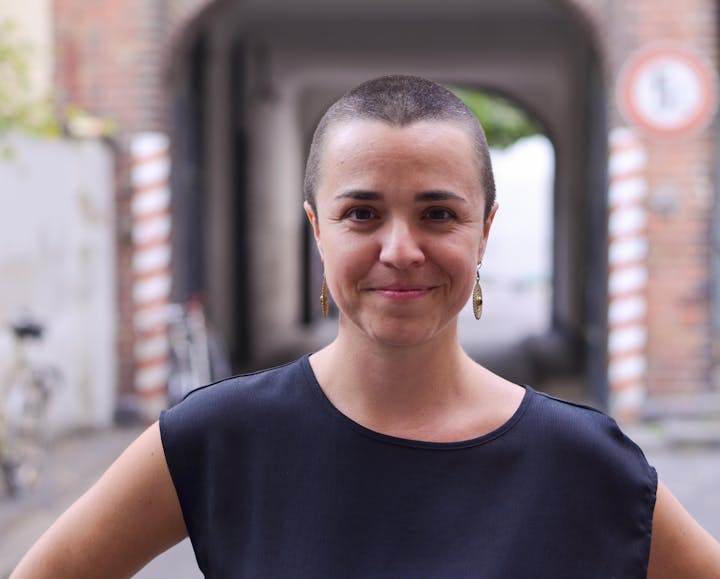 Dr. Francesca (Fra) Mega is Neuroscientist, Coach and Community Builder.
They offer professional development trainings that are research based and rooted in mindfulness. The curricula are designed to empower people to access strategic intuition in complex decision environments and re-gain a sense of ease & creative potential. Their offers include consultation and training of strategic intuition, agile mindset development & mindful awareness, with a focus on communication, conflict - and diversity sensitivity.
Eva Bakardjiev works as Somatic Coach to support personal empowerment and social transformation. Integrating her academic education of a B.A. in Social Anthropology, Pedagogy and Gender Studies, and her performance background B.A. Contemporary Dance, with an extensive training in Somatic Methodologies she has been in private practice for +8 years and has touched the lives of hundreds of clients in 1-on-1 processes and as workshop facilitator. She understands that it is crucial for our personal well-being and the state of the world, that we reconnect to ourselves as holistic-interconnected beings and to access our body-intelligence, not only to successfully navigate disruption but to create the #NewWork, Leadership and Organizations, that will allow us to answer the pressing questions of our time and create a rich life, vs. just make a living.
The Space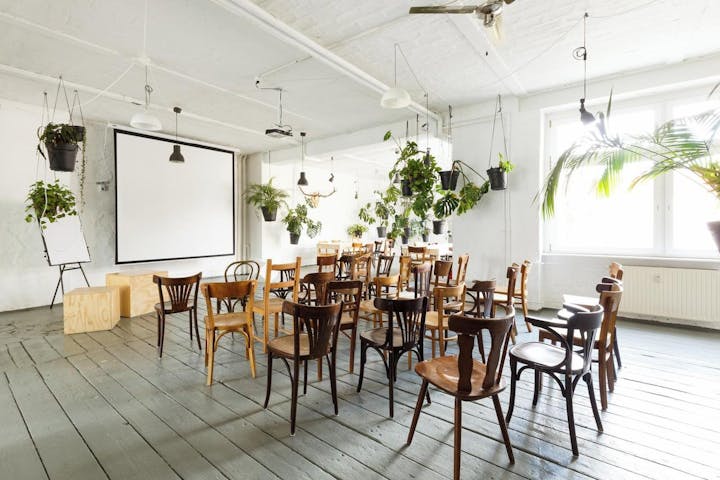 LIANE - Green Event Space

Located in the heart of Berlin's creative and vibrant neighbourhood Neukölln, this 160sqm venue is filled with light and plants, providing a bright and refreshing atmosphere. By inhaling the fresh oxygen produced by around 40+ plants ideas flow like during a walk through the forest.

Your Investment
Corporate Ticket: € 750 + 19% taxes
Team (3) Ticket / **15% off: € 1913 + 19% taxes
Team (5) Ticket// ** 20% off: € 3000 + 19% taxes
We do offer some reduced price tickets for Solopreneurs, Freelancers, Students and other's otherwise unable to attend for lack of funds. Please talk to us!
Note that ticket costs are inclusive of drinks, snacks and workshop material, as well as organic catered lunch on both days.
7040 Views - 24/11/2019 Last update
Berlin
Karl-Marx Str. 17, Berlin, 10243, Berlin, Germany
---
Are you an event organizer?
Create events for free. They will be immediately recommended to interested users.
Create event
Nearby hotels and apartments
Karl-Marx Str. 17, Berlin, 10243, Berlin, Germany
---
---
Berlin
Karl-Marx Str. 17, Berlin, 10243, Berlin, Germany
Event from
eventbrite.com
---
---
Are you an event organizer?
Create events for free. They will be immediately recommended to interested users.
Create event
Berlin

›