IOTA Course for Developers // Seminar + Learning App + Premium Support
COVID-19: many events have been canceled or postponed, please check with the organizer the event status.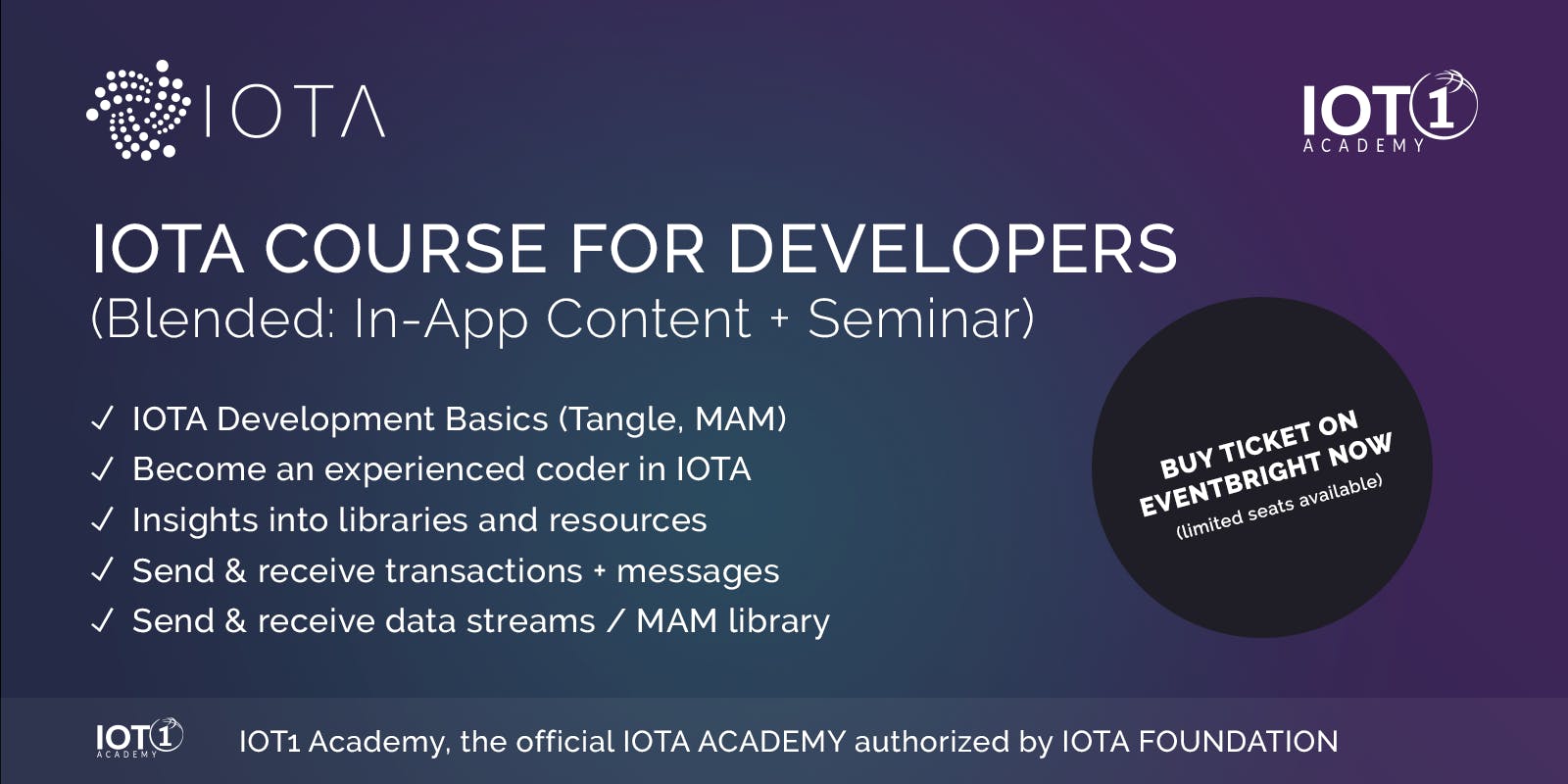 Image from eventbrite.de
Wednesday 18 September 2019
---
In this Training IOTA Onboarding Course for Developers you will learn everything you need to know to build applications on IOTA's Tangle.
You will receive
- Have a real 2-Days-Seminar with experienced IOTA coders in Berlin (at the end of the 6 weeks App training)
- Access to the Learning-App (App for mobile devices + Webapp for Notebook or PC)
- Extensive and complete In-App Course (6 weeks duration, though you can set your own pace)
- Premium Support via In-App Messenger (from real IOTA Coders)
Overview
- This course let you explore all the IT libraries and resources as well as developer tools that you need to start sending and receiving transactions.
- This course also gives you all knowledge that you need to set-up a professional development environment and automated tests, debugging, deployment, etc.
You will learn how to code with the MAM library and send and receive data streams.
You will also learn the main concepts and features of Qubic.
You are asked to develop your own fully functional IOTA Application. If you don't have a clue what to do we will help you to find a project vision.
At the end of the 6 week App-based course with premium support you come to Berlin and join a 2-days real seminar with experienced IOTA coders who are skilled in training
Requirements
You would need to have an engineering or computer science background or be at least a highly motivated autodidact

Basic understanding of Blockchain & PGP or Cryptography
What's in for the price?
Get basic programming knowledge of IOTA

Have your own IOTA Application developed

Get a hands-on course with a very practical approach and several coding sessions with several pair programming sessions across all the days of learning and TDD (Test Driven Development).

Get access to a beautiful Learning App (Mobile Learning App plus Multi Device Usage via PC or Notebook) including an extensive and complete course for 6 weeks (faster learners welcome though)

An Online Training consisting of 4 Courses (with 4-7 trainings each)

supported by a messenger in these 6 weeks for your personal support (IOTA Coder/Trainer-supported course)

Join a 2-days Seminar in Berlin at the end of the 6 weeks
Concept of this course, IMPORTANT INFO
This is an online course with premium support via messenger + 2 days seminar in Berlin

We start

on the designated event day listed here on Eventbrite, introducing the trainer and explaining the App, giving you your personal login incl. password and provide a lot of insights to make sure you are onboarding the right way on your first training day. :)

Please don't miss this starting day

. If you miss it there is no repetition and you miss a lot of information.

We start with courses every week or every second week. Please start a course only if you think you can do the introduction day with us since it is included in the price.

Thank you!

At the end of the 6 weeks training we meet for a final 2-days seminar in Berlin to live code and train all about IOTA
Course content overview
IOTA INTRODUCTION

(Difference between Blockchain & IOTA, Characteristics of DAC, the Distributed Ledger of IOTA, VISION of the IOTA FOUNDATION, etc.)

IOTA BASICS

(Setting up a Full Node, Operating your own IOTA Network, Full Node APIs, Mainnet, Devnet, Spamnet, etc.)

IOTA DEVELOPMENT I

(Intro into IOTA Programming, Node.js & VS Code, Development Environment, Resources, Libraries, sending Tokens & Messenges, etc.)

IOTA DEVELOPMENT II

(generating Addresses, creating Seeds, Trinary, Transaction Bundles, Snapshots, setting up your own Application project, etc.)

IOTA DEVELOPMENT III

(Masked Authenticated Messaging, setting up Sensor Data to the Tangle, connect your IOTA Application)
Your instructor of IOTA Onboarding Course for Developers (in the six weeks + the 2 days seminar in Berlin)
Mark Kessler
28 Views - 19/09/2019 Last update
Berlin
Berlin, Berlin, Germany
---
Are you an event organizer?
Create events for free. They will be immediately recommended to interested users.
Create event
Nearby hotels and apartments
Berlin, Berlin, Germany
---
---
Berlin
Berlin, Berlin, Germany
Event from
eventbrite.de
---
---
Are you an event organizer?
Create events for free. They will be immediately recommended to interested users.
Create event
Mitte

›