KARDS Gamescom 2019
Friday 23 August 2019 6:00 PM Friday 23 August 2019 9:00 PM
Save
Saved
Last update 24/08/2019
1554
Macht mit beim weltweit ersten KARDS Spielertreffen zur Gamescom 2019 in Köln gemeinsam mit dem Entwicklerteam. Freigetränke inbegriffen!

KARDS Gamescom 2019 ist das erste offiziellen Spielerfreffen für KARDS. // KARDS Gamescom 2019 is the first ever official player gathering for KARDS!
Deutsch und Englisch // German & English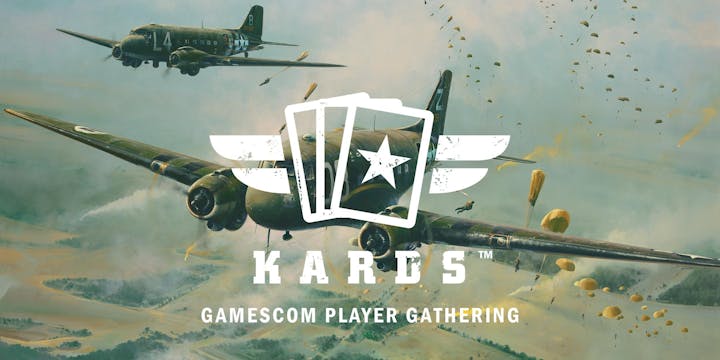 Macht mit bei diesem tollen Event in Köln und erlebt die außergewöhnliche KARDS Spielergemeinschaft zusammen mit dem KARDS Entwicklerteam von 1939 Games.
Dieses Event ist in der berühmten Altstadt von Köln mit einer tollen Partyszene.
Inbegriffen in diesem Event sind Freigetränke, um dne Early Access Start und die Spielergemeinschaft von KARDS gebührend zu feiern.
Genau die richtige Gelegenheit, um zusammen mit euren Freunden Spaß an KARDS zu haben, einen Einblick in neue Features und zukünftige Entwicklung zu bekommen, und die Entwickler im Spiel herauszufordern. Natürlich kommt der Spaß auch nicht zu kurz!
Enthalten im KARDS GAMESCOM 2019 Ticket
Zugang zum Veranstaltungsort in der Altstadt von Köln
Alkoholische und nicht-alkoholische Freigetränke
Exklusives KARDS T-shirt
Reale KARDS-Karten
Spielkampf mit den Entwicklern
Bitte beachtet: Dieses Ticket ist KEINE Eintrittskarte zur Gamescom, sondern nur für dieses Spielertreffen gültig
Alle Fragen können gerne an support@1939games.com geschickt werden
-------------------------------------------------------------------------------
Join this amazing event in Cologne, Germany, and experience the incredible KARDS community together with the 1939 Games team, the whole KARDS development team is present.
Located downtown Cologne with its amazing nightlife and thrilling party scene, this event includes a three-hour open bar to celebrate the Early Access success of KARDS and its splendid community.
This is the right place to enjoy KARDS with your fellow gamers, to have peek at new features and future development, to battle the devs during a live-tournament, and to have a fantastic time!
KARDS GAMESCOM 2019 tickets include:
Access to the events venue located Cologne downtown
Open bar with alcoholic and non-alcoholic beverages
Exclusive KARDS T-shirt
Physical KARDS booster pack
Battle-the-dev event
Please note: This ticket does NOT grant access to Gamescom, it is only valid for this event
Any questions, please send to support@1939games.com.
-------------------------------------------------------------------------------
WEITERE INFORMATIONEN / FURTHER INFORMATION
Nearby hotels and apartments
Dom im Stapelhaus
Frankenwerft 35, Köln, 50667, NRW, Germany
Frankenwerft 35, Köln, 50667, NRW, Germany
Event from
eventbrite.com