MedInnovate Summer Symposium
Thursday 12 July 2018 6:30 PM Thursday 12 July 2018 11:00 PM
Save
Saved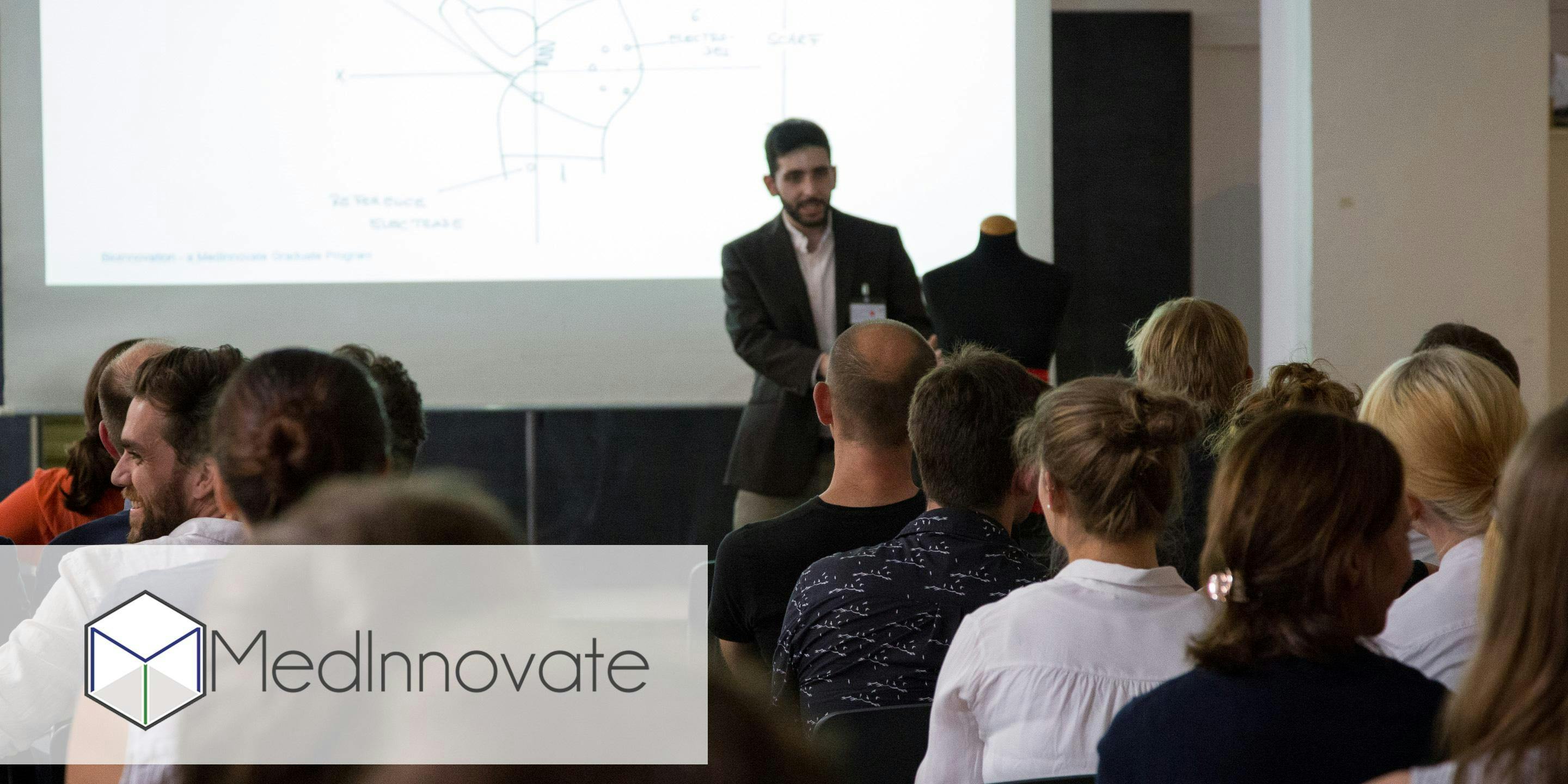 Last update 13/07/2018
810
Join us for an exciting evening
We would like to invite you to the MedInnovate Summer Symposium in Munich in July 2018. The Summer Symposium provides a venue for healthcare innovation and represents the finish of the MedInnovate Graduate Programme. It will take place in Munich at TranslaTUM on July 12, 2018 starting at 18:30 (sharp).
The MedInnovate Graduate Programme is a five month workshop for graduate students at Technical University of Munich, focusing on a needs-driven innovation framework similar to Stanford Biodesign. For the last months, four teams have been working extensively in the areas of Orthopedics, Traumatology, Neurosurgery and Minimally Invasive Surgery with the goal of identifying unmet clinical needs and creating innovative concepts to solve those.
At the symposium, our teams will pitch their identified clinical need as well as their solution concept and startup idea to solve it. In a framework programme, we will showcase different factors around MedInnovate and general entrepreneurship in MedTech and free drinks and snacks will be provided in the gettogether
We are very much looking forward to seeing you in July!
Information: A (free) RSVP ticket is mandatory to enter the venue and tickets are limited. People registering for a ticket and not showing up at the event without deregistering won't be invited in future.
By registering to this event, you agree that that the results and rights of use from the projects created during MedInnovate belong to the respective creators. You allow MedInnovate, TUM and the project partners to take pictures of you during the event and agree that these photos may be published in various media such as Internet, flyers, brochures.
Preliminary agenda
Rooms open from 5:45 pm
Start at 6.30pm sharp
// Opening remarks and and overview
Christoph Hennersperger, Julia Rackerseder, Marcus Vollrath
Insights into healthcare innovation
// Start-up journey
Philipp Heiler, brainboost
// Thoughts about "Analysis Online" in clinical innovations
Prof. Dr. Martin Daumer, Trium Analysis Online GmbH/SLC e.V.
// Patient Reported Outcome und Patient Engagement
Prof. Dr. Christian Wallwiener, WMC Healthcare
Short break
// Concept showcase
Presentation by 2018 MedInnovate Graduate Programme teams
// Feedback by audience
Get-together and networking
business
workshop
Start Up
Nearby hotels and apartments
TranslaTUM
Ismaninger Straße 22, München, 81675, BY, Germany
Ismaninger Straße 22, München, 81675, BY, Germany