Visual Practice Modules
COVID-19: many events have been canceled or postponed, please check with the organizer the event status.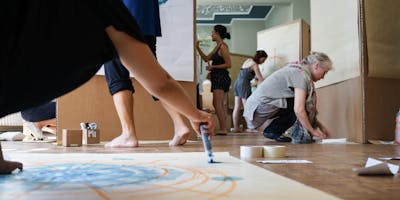 Image from de.eventhint.com
From Wed 8 April 2020 to Sun 12 April 2020
From Wednesday 8 April 2020 to Sunday 12 April 2020
Join a growing global eco-system of practitioners who use the "art of scribing" to bridge the ecological, social, and spiritual divides we experience in our world today. Scribing—a process of drawing while people talk—provides a mirror that can help a system see itself in new light. With intention to build navigational capacity for the rapidly changing times in which we live, this suite of modules will focus on:
Activating intelligences of the Open Mind, Heart, and Will
Deepening practice of a visual sense-making discipline
Cultivating knowledge of social technologies

OVERVIEW
The intent is to offer five unique sessions, 1-day each, that you can experience individually or combine as you would like:
Module 1: Basic Levels of Scribing: Learn about the "art of scribing"—a practice that visually represents ideas while people talk—and its role in transforming conversation and decision-making. Participants will explore the profession through Kelvy's 4 Levels of Scribing and Model of Practice, scribe a live conversation, and consider how to apply this practice professionally.
Module 2: Dynamics of Listening: This session will include a review of "Levels of Listening" (Otto Scharmer) and Conversational Dynamics (David Kantor), and apply these frameworks directly into visual expression. Participants will practice conversing and drawing with different levels—factual, relational, and generative—to expand their awareness around ways of receiving and representing information.
Module 3: Systems Scribing: Here we will share a new methodology that weaves systems thinking with realtime visual practice, to represent dynamics that occur in the moment and over time, between a scribe and a social body. This discipline develops a critical skill to facilitate a system's ability to see and sense itself, as well as crystalize ideas into action. Expect to diagnose, make connections, and model while you draw.
Module 4: Generative Scribing: In this module, participants will have an opportunity to sense into, and become in tune with, a social field. This is a kind of visual practice that attends to energy and essence, while helping us represent emerging future possibilities from a deeper kind of knowing. The group will have a practice-intense day with built in peer-to-peer feedback and individual reflection.
Module 5: Advanced Practice: If you have already participated in some of the Visual Practice Workshops and are wondering what's next, this module is specifically for you. We will share our latest thinking, pool our collective knowledge and resource, and venture to the edges of our practice to explore what is next individually and as a community of concerned global citizens and scribes.

Who should participate?
Anyone wanting to learn basics of scribing
Scribes who want to bring systems thinking and Presencing into their practice
Theory U practitioners wanting to learn visual expression
Visual thinkers seeking to expand their capacity
Advanced practitioners who are seeking their next professional steps
Drawing will be our primary form of practice. You do not have to be a skilled scribe or artist – but be prepared to use visual expression as the main method of practice during the program.

LOGISTICS
Location
Central Berlin - exact location to be determined.
Dates
All modules will start at 9:00am and end at 5:00pm on the same day:
Module 1: Wednesday, April 8
Module 2: Thursday, April 9
Module 3: Friday, April 10
Module 4: Saturday, April 11
Module 5: Sunday, April 12

TEAM
Kelvy Bird is an internationally recognized graphic facilitator, supporting groups by translating content and dynamics into visual formats that aid with reflection and decision-making. As co-founder of the Presencing Institute, Kelvy has helped shape many of the online and global community offerings, most recently the edX course u.lab: Leading From the Emerging Future, for which she provides extensive visual material. In 2016, she co-edited the anthology: Drawn Together through Visual Practice, and in 2018 released Generative Scribing: A Social Art of the 21st Century. An artist by training, Kelvy received her BFA in painting and BA in Art History from Cornell University. Her current residence is Somerville, MA, USA.

Alfredo Carlo is a designer of collaborative processes and is a graphic facilitator. He's the founding partner of Housatonic Design Network and, since 2011, a partner of Matter Group. Together these networks deliver graphic facilitation and collaborative sessions to navigate complexity. Alfredo is also a member of The Value Web, a not-for-profit organisation made of international facilitators and designers, which helps large and medium-scale institutions all over the world in their processes of research for systemic and complex problem-solving. Alfredo currently lives with his family in Bologna, Italy.
Guest team members to be announced.

REGISTRATION
In order to include a range of participation, we are experimenting with a model of a self-selected fee. Please register at the rate that feels most appropriate to your local economy, stage of professional development, and income.
Rate One: $600 (Strong global currency, working professionals…)
Rate Two: $400 (Emerging markets, students, those building their practice…)
Multiples of Rate One: $500 each module
Multiples of Rate Two: $300 each module
Scholarship – Email your request
10% discount – for Visual Practice Workshop or System Scribing Lab alumni
The registration fee includes: lunch and two breaks, supplies and course materials. Participants are responsible for their own accommodation and transportation to and from the venue. Please note that VAT (a 19% Value Added Tax required for services delivered within Germany) is included in the registration. If you have a company with a registered VAT in your country, we will issue an invoice accordingly.
Refund Policy: The amount paid minus a $50 processing fee will be refunded for all cancellations received in writing before March 13, 2020. No refunds will be granted for cancellations received after that time, but registrations can be transferred to other participants at no additional cost. The Organizer is not liable for an event cancellation due to sickness, riots, epidemics, or acts of god.
5934 Views - 13/04/2020 Last update
(To be confirmed)
Berlin, DE
---
Are you an event organizer?
Create events for free. They will be immediately recommended to interested users.
Create event
Nearby hotels and apartments
Berlin, DE
---
(To be confirmed)
Berlin, DE
Event from
de.eventhint.com
---
---
Are you an event organizer?
Create events for free. They will be immediately recommended to interested users.
Create event
Mitte

›